Managing and Directing Successful Projects with PRINCE2®
Online Subscription
Author:

AXELOS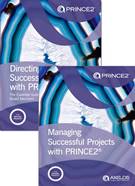 The subscription includes both the new core PRINCE2 6th edition of 'Managing Successful Projects' and 'Directing Projects with PRINCE2'.
Key features:
The publications have been designed to be role specific manuals for senior managers and project board members and describe how to oversee projects being managed with PRINCE2. The guides set PRINCE2 in the wider context of project management (but still non-specific for industry sector) and describe or cross-reference techniques which support the PRINCE2 method.
Managing Successful Projects with PRINCE2 6th Edition:
Increased emphasis on tailoring PRINCE2 to the needs of organizations and a varied range of project environments

Describes the PRINCE2 processes in their entirety

Restructuring of the 'Themes' chapters to accommodate typical examples of tailoring

Improvements to the structure and format have been made throughout the manual to en-sure it is easier to navigate and use

The updated guidance and exams has been developed through a collaborative approach involving over 100 members of the broader development team, including practitioners, trainers and consultants

PRINCE2's familiar structure of seven principles, themes and processes have remained constant.
Price quoted below is for single user access. To discuss multi-user access and the packages available, please contact our dedicated digital sales team on: email digital@tso.co.uk ; or telephone: +44 1603 696675.
Alternative formats
Directing Projects with PRINCE2 6th Edition:
Projects are the means by which change is introduced. PRINCE2 is increasingly recognized as the most widely used project management method worldwide. The PRINCE2 framework of processes and guidance has been proven over many years to be an effective solution to the most common causes of project failure. Designed from the outset to be flexible and generic, the method can be applied and tailored to projects of any type or scale.
The importance of effective senior management in projects has been demonstrated repeatedly as one of the key contributing factors in achieving success. This guide is specifically aimed at helping project board members to direct project work efficiently, consistently and, above all, successfully. This is aligned with the latest edition of Managing Successful Projects with PRINCE2 which reinforces the principles that underpin successful project management, and provides guidance on how to apply those principles to any type of project.
"The updated guidance will enable people running projects of any size and in any environment to effectively control the time, cost, quality, scope, benefits and risk. It has been developed through extensive consultation with reviewers familiar with the challenges of the project board and it draws upon the real-life experiences of organizations in both the public and private sectors.

Good luck with directing your projects; whatever your role, experience or delivery environment, you will find something of value in this publication."

Peter Hepworth, Chief Executive Officer of AXELOS
Key features
Explains the duties and behaviour of the Project Board

Aligned to PRINCE2 6th edition core guidance

Highlighted tips, definitions and key messages throughout the text

Practical approach with many illustrations and summary boxes

Improved structure and format to ensure ease of use

Contains a comprehensive glossary

Has appendices that cover roles and responsibilities, checklists, programmes and portfolios

Index for quick reference

Useful summary chart on inside cover
We offer flexible packages for those wanting to share access across an organisation, time zones, or those needing mixed media access. Please email digital@tso.co.uk to discuss your requirements.