The Effective Change Manager: Change Management Body of Knowledge
Author:

Change Management Institute (CMI)

Publisher:

Change Management Institute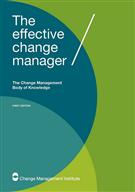 Starting with the competency model, 'what change managers do', the CMBoK describes what Change Managers must know in order to display those competencies effectively and to deliver change.
Key features:
This first edition draws on the experience of more than 600 change management professionals in 30 countries

It is designed for practitioners, employers, authors, academics and anyone interested in this discipline

This title underpins the knowledge required for change practitioners as defined in the CMI Foundation and Master level competency models

It is the reference text for the education component of CMI's Accredited Change Manager (ACM) Foundation Level.

It is also the basis for APMG's Change Management syllabus and exams

It is a key starting point for organizations developing a change management community, providing a template for selection and development
More information
The change management profession itself is in a state of rapid change and growth. Research shows that the number of Change Management jobs is growing, and more organisations are seeking to build change management capacity and capability.
Informed by international research and peer review, the CMBoK represents one of the best resources for the professional change manager and those organisations seeking to improve their change management capability.
It provides practising change managers or those aspiring to practise with a recognised outline of the required knowledge to deliver change successfully.
For those employing change managers or contracting change management services, it provides a description of change management expertise they can reasonably expect of an effective change manager.