A Study Guide to Service Catalogue: from the Principles of ITIL® V3
APMG International™ Service Catalogue
Author:

Hank Marquis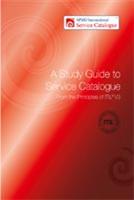 'A Study Guide to Service Catalogue: From the Principles of ITIL® V3' is endorsed by the official ITIL® Accreditor, written by the Office of Government Commerce and one of the original Service Catalogue authors, is suitable for candidates taking the APMG Service Catalogue qualification as well as those who want a definitive reference to creating a Service Catalogue using ITIL guidance.
This Study Guide uses terminology consistent with the ITIL Service Management Practices and the ITIL Glossary, acronyms and definitions.
This publication draws on guidance from the five core ITIL books in the creation of a Service Catalogue, as documented in the ITIL core library.
The structure of the book complements the structure of the exam syllabus and provides a comprehensive collection of ITIL guidance, organized and focused on Service Catalogue.
Key features:
Introduction To Service Catalogue Concepts

Principles Related To Service Catalogue

Technology For Service Catalogue

A Project Plan Approach

Reporting Considerations

The Business Case

Key Relationships & Touch Points.