ArchiMate® 2 Certification Study Guide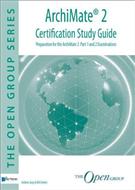 This title is a Study Guide preparing for the ArchiMate 2 Part 1 and 2 Examinations. It gives an overview of every learning objective for the ArchiMate certification syllabus and in-depth coverage on preparing and taking the ArchiMate 2 Examinations. It is specifically designed to help individuals prepare for certification.
This Study Guide is excellent material for:
Individuals who require a basic understanding of the ArchiMate modeling language

Professionals who are working in roles associated with an architecture project and who need to understand architecture artefacts developed using the ArchiMate modelling language

Individuals who want to achieve a recognized qualification to demonstrate their knowledge of the ArchiMate modelling language
A prior knowledge of Enterprise Architecture and architecture modelling is advantageous but not required. While reading this Study Guide, the reader should refer to the ArchiMate Version 2.1 Specification.