USM650 Service Change Management 102
Author:

Service Management 101, Ian M. Clayton

Publisher:

Service Management 101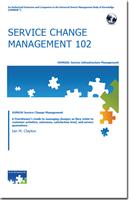 'USM650 Service Change Management 102' is a practitioner's reference for professionals developing practices to manage changes as they relate to products and services, providing a detailed specification of a configuration management system and its operational components.
As a practitioner guide this book draws upon available terms, methods, concepts, and guidance used across all industries, regardless of sector. Its development starts with a universal perspective and is inclusive of all theory and concepts regardless of their source, and then applies these to services.
This guide is also designed to be compatible with relevant international standards, such as ISO® 10007:2003, ISO 20000 and ISO 9000, popular best practice frameworks such as the IT Infrastructure Library (ITIL®), COBIT®, and nationally recognized guidelines such as ANSI®/EIA-649-1998 National Consensus Standard for Configuration Management, and CMMI® for Development, Configuration Management.
This book is a companion and authorized extension to the Guide to the Universal Service Management Body of Knowledge (USMBOK) publication, for the USM650 Service Change Management knowledge area.