A Senior Manager's Guide to Managing Benefits - 2nd Edition
Author:

Steve Jenner / APMG

Publisher:

TSO (The Stationery Office)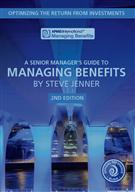 Updated to align with Managing Benefits, 2nd edition 2014, this guidance describes how benefits management addresses the challenges faced by senior managers and decision makers in any organization - challenges magnified by tough economic conditions and the need to deliver greater value for money, whilst responding to increased expectations of more customer-focused services.
Appropriately designed and applied benefits management can help address these challenges by optimizing the return on investments in change.
Key features
This guide addresses the following key questions:
What are benefits and benefits management?

Why do you need benefits management and what will you get from it?

What are the barriers to success?

How do you overcome the barriers to benefits realization?

How do you get started and sustain progress?

What techniques are available to you?

What are the key questions you should be asking?
The guidance is not specific to any one sector: the principles, practices and techniques apply to all sectors of the economy and across jurisdictions. This senior manager's guide is supported by the more detailed practitioner guidance title 'Managing Benefits'.