Legislative Tracking - The All Follows Service from TSO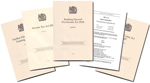 The All Follows legislative tracking service offers you an easy way to follow the progress of legislation. Each morning publications are identified and issued to All Follows customers that relate to their chosen Bill, up to and following Royal Assent.
Key Legislation

Contact Us
For more information or to request the All Follows service, please call the Parliamentary Hotline: +44 (0)8457 023 474, or download the leaflet and order form.