Information Security Economics
Author:

Saïd El Aoufi

Publisher:

TSO (The Stationery Office)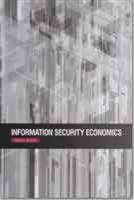 Information security economics is a largely under-researched subject, and there is little available literature on the subject, with most existing material focusing on the technological aspects rather than on economic considerations.
This new title, 'Information Security Economics' explores the economic aspects of information security, whilst explaining how best to work with them, in order to achieve an optimized ROI on security investments. It considers ways in which information security metrics can be utilized to support security initiatives, and how requirements can be prioritized by organizations, in order to maximize returns within a commercial environment which may have limited resources.
Key features:
establishes a foundation for understanding the broader field of information security economics;

identifies key challenges that organisations face as regards the ever-increasing threat profiles involved in information security;

illustrates the importance of linking information security with risk management;

explores the economics of information security from a cost-benefit perspective;

demonstrates how information security metrics can identify where security performance is weakest, assist management to support security initiatives, and allow performance targets to be achieved;

establishes ways in which organisations need to prioritise information security requirements and controls, in order to maintain cost-effective deployment in a business environment which may have limited resources; and

gives practical recommendations to help organisations to proceed with the economic evaluation of information security.
Contents include:
Chapter 1: Introduction

Chapter 2: Information Security Challenges

Chapter 3: Risk Management and Information Security

Chapter 4: Economic Evaluation of Information Security

Chapter 5: Information Security Metrics

Chapter 6: Context, Content and Process of Information Security

Chapter 7: Concluding Comments

Appendix A: Benefits Estimation Security Control

Appendix B: Risk Worksheets

Appendix C: On-going effectiveness Evaluation Tree

Appendix D: Threat matrix

Appendix E: ISO27002

Appendix F: Surety ratings to security mechanisms

Appendix G: Practice Study Questionnaire

Appendix H: Review questions

Appendix I: Answers to questions

Appendix J: List of acronyms

Appendix K: Terminology

Appendix L: References

Appendix M: Index