ITIL® Practitioner Guidance
Paperback
Author:

AXELOS

Publisher:

TSO (The Stationery Office)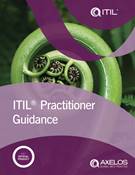 ITIL Practitioner Guidance is the essential reference text which accompanies the ITIL Practitioner qualification. Fully integrated with the ITIL Practitioner syllabus, this publication is also a practical guide that helps IT service management (ITSM) professionals turn ITIL theory into practice through case studies, worksheets, templates and scenarios.
The book assumes knowledge of ITIL and ITSM up to ITIL Foundation level, and begins with a discussion of the guiding principles of ITSM:
Focus on value

Start where you are

Progress iteratively

Be transparent

Keep it simple

Design for experience

Work holistically

Observe directly

Collaborate
Alternative formats
It goes on to explain how these guiding principles are essential for ITSM and how they relate to philosophies, frameworks and methodologies such as DevOps, Lean, Agile etc.
The publication shows how following the CSI (continual service improvement) approach, and how the core skills of organizational change management, communication, metrics and measurement, can underpin successful ITSM improvement initiatives.
Assembled by the Practitioner Architect Team of Kevin Behr, Karen Ferris, Lou Hunnebeck, Stuart Rance, Barclay Rae and Paul Wilkinson, a team of renowned ITSM experts under the guidance of AXELOS' Kaimar Karu, ITIL Practitioner Guidance concludes with a practical toolkit containing templates, worksheets and assessments that will help ITSM professionals to improve the value of the service they provide to their customers.
Key features
Built around the syllabus of the ITIL Practitioner qualification

The only book allowed into the ITIL Practitioner exam

A practical guide to implementing day-to-day ITSM improvements

Comes with a handy toolkit containing templates, worksheets and assessments which can be used within the Practitioner's daily work practices.
Read Steven Mann's review in his blog post "8 things that stand out in the New ITIL Practitioner Guidance Book".
Please note: Erratum Page 46, section 3.2.5.1, Carrying out a benefits realization review
Instead of reading: "The benefits realization review should be carried out after the completion of the 'How do we get there' step for each improvement,"
It should read: "While the expected benefits should be captured in the 'Where do we want to be?' step as part of the business case, the benefits realization review should be carried out after the completion of the 'Did we get there?' step for each improvement,"
ITIL Practitioner 1st edition, 2nd impression - Jan 2018
As part of the on-going commitment to delivering high quality publications, AXELOS and TSO have updated the ITIL Practitioner guidance with a new impression. The core guidance itself (and the examinable content) remains unchanged, ensuring it is acceptable to use either the 1st or 2nd impression on a course and in the exam.
The main changes in the 2nd impression include:
Update to overall design and presentation

Editorial corrections to improve overall readability in addition to improving the ease and accuracy of translation

Revised Acknowledgements