Release, Control and Validation Intermediate Capability Handbook
Author:

Duncan Anderson

Publisher:

TSO (The Stationery Office)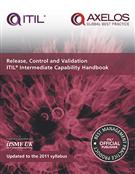 Updated in line with the ITIL 2011 editions and the Release, Control and Validation (RCV) syllabus, this quick-reference guide will help you as you study for the RCV module of the ITIL Intermediate Capability qualification. Beyond the exam, this handbook is a practical resource that can be used in the workplace. Companion volumes covering the other Intermediate Capability modules are also available.
Key features:
Authored and quality assured by itSMF UK

Endorsed by the APM Group

Follows the ITIL Intermediate Release, Control and Validation Syllabus.
Covers the following processes and functions and how they contribute to the Lifecycle:
Change Management

Service Asset and Configuration Management

Service Validation and Test

Release and Deployment Management

Request Fulfilment

Service Evaluation

Knowledge Management
Alternative formats