Key Element Guide ITIL Service Strategy
Aligned to the 2011 Editions
Author:

AXELOS

Publisher:

TSO (The Stationery Office)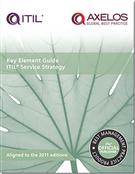 The 'Key Element Guide Service Strategy' provides a handy reference to the content contained within the core 'ITIL Service Strategy' guidance and summarises its key elements.
Service Strategy is a view of ITIL that aligns business and IT so that each brings out the best in the other. It ensures that every stage of the Service Lifecycle stays focused on the business case and relates to all the companion process elements that follow.
Key features:
Written by authors of the main core guidance titles

Provides a handy overview of the five core titles

Each Key Element Guide shares the same structure

Quality assured and endorsed by itSMF International.
Alternative formats
Also available in ePub eBook format from all major eSellers. A full list of Best Management Practice eSellers is available on our help pages.