ITIL® Foundation Handbook
Pocketbook from the Official Publisher of ITIL - Single Copy
Author:

Claire Agutter

Publisher:

TSO (The Stationery Office)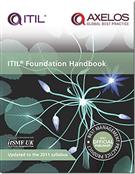 Now updated in line with the 2011 syllabus and endorsed by APM Group, the official ITIL Accreditor, the 'ITIL Foundation Handbook: Pocketbook from the Official Publisher of ITIL' is a quick-reference revision guide designed to help students prepare for their foundation exam. It is also a key reference aid for managers, practitioners, vendors and consultants in the workplace and while travelling.
This handbook provides an introduction to the ITIL service lifecycle model and an overview of the ITIL qualification structure. It contains a chapter on each of the components of the lifecycle: service strategy, service design, service transition, service operation and continual service improvement.
Key Features
Aligned with the ITIL 2011 publications and syllabus

Provides relevant information, and enough detail and breadth of coverage to enable students to study for their foundation exam

Describes the key principles and practices of IT service management

References relevant sections of the core publications

Supersedes ITIL Version 3 Foundation Handbook (ISBN 9780113311972)
"This updated publication builds upon the success of the previous edition that sold over 123,000 copies worldwide, ensuring that those studying for their Foundation Exam have an up-to-date study aid from the official publisher." Lucy de Best, ITIL Commissioning Editor.
Colin Rudd, Chair of itSMF UK and one of the co-authors of the revised ITIL Foundation Handbook, said "I'm delighted that the itSMF UK Publications Group have been a key part of this important project to bring the Handbook in line with ITIL 2011. The pocket guide is an essential companion for those completing the Foundation Course and is particularly popular with the training organisations that I talk to on a regular basis."
Alternative formats