Six Sigma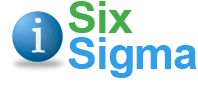 Six Sigma is a business management strategy, originally developed by Motorola that today enjoys wide-spread application in many sectors of industry.

Six Sigma seeks to identify and remove the causes of defects and errors in manufacturing and business processes. It uses a set of quality management methods, including statistical methods, and creates a special infrastructure of people within the organization ("Black Belts" etc.) who are experts in these methods. Each Six Sigma project carried out within an organization follows a defined sequence of steps and has quantified financial targets (cost reduction or profit increase).

Six Sigma asserts:
Continuous efforts to achieve stable and predictable process results (i.e. reduce process variation) are of vital importance to business success.
Manufacturing and business processes have characteristics that can be measured, analyzed, improved and controlled.
Achieving sustained quality improvement requires commitment from the entire organization, particularly from top-level management
Features that set Six Sigma apart from previous quality improvement initiatives include:

A clear focus on achieving measurable and quantifiable financial returns from any Six Sigma project.
An increased emphasis on strong and passionate management leadership and support.
A special infrastructure of "Champions," "Master Black Belts," "Black Belts," etc. to lead and implement the Six Sigma approach .
A clear commitment to making decisions on the basis of verifiable data, rather than assumptions and guesswork.
Its two key methodologies are:

DMAIC (define, measure, analyse, improve, control): and
DMADV (design, measure, analyse, design, verify).

Information and links to relevant legislation, standards and frameworks in the Service Management industry:

To purchase Six Sigma products please visit the online shop.