CobiT
What Is CobiT ™?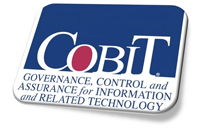 The Control Objectives for Information and related Technology (CobiT) is an open standard for IT control and security; a set of best practices (framework) for information technology (IT) management created by the Information Systems Audit and Control Association (ISACA), and the IT Governance Institute (ITGI) in 1992.

It consists of 6 components: Executive Summary, Management Guidelines, Control Objectives, CobiT Framework, Audit Guidelines, and Implementation Toolset.
It provides managers, auditors, and IT users with a set of generally accepted measures, indicators, processes and best practices to assist them in understanding their IT systems and decide the level of security and control that is necessary to protect their companies assets through the development of an IT governance model.

To purchase CobiT products please visit the online shop.

For further information visit: www.isaca-central.org.uk/cobit.htm (opens in new window).