A Framework for Value Management Practice - Second Edition
Author:

Project Management Institute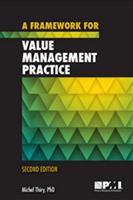 Whether you call it "value analysis" "value engineering" or value management," A Framework for Value Management Practice Second Edition provides you with the principles, concepts, tools and techniques you need to develop your own value management practices.
Written by international value management expert Dr. Michel Thiry, this latest edition of the 1997 landmark book has been revised and updated to reflect the latest developments in value management practice.
Michel Thiry, PhD, past-CVS, PVM, CSVA Life Value Achievement, and PMI Fellow, is a globally recognized value management expert with 35 years of experience working around the world, whose contribution as a practitioner and author was recognized with a Life Achievement Award from the Canadian Society of Value Analysis.
A Framework for Value Management Practice Second Edition begins by providing readers with the background needed to understand the origins of this complex and rapidly evolving practice. The second chapter builds on this foundation, by helping readers understand how the deceptively simple concept of "value" is actually a complex interweaving of factors that include time, people, subject and circumstance. Dr. Thiry then walks the reader step by step through the complexities of different value methodologies.