Procurement and Supply in Projects: Misunderstood and Under-Researched
Author:

Project Management Institute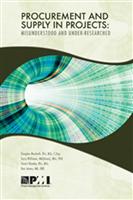 Procurement Management is one of the nine Knowledge Areas of the PMBOK® Guide, but it is a relatively recent focus of academic study and in many business sectors the contribution of procurement is not fully realized or integrated into the strategic considerations of the business. Procurement and Supply in Projects: Misunderstood and Under-Researched examines this inconsistency.
The literature review is a rich resource that reveals key concepts, such as:
The increased importance of procurement in projects versus continuing operations.

Early involvement of suppliers in project planning can yield great benefits in later project performance.