The Standard for Portfolio Management - Third Edition
Author:

Project Management Institute (PMI)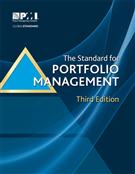 'The Standard for Portfolio Management - Third Edition' offers the most up to date information regarding accepted practices in portfolio management and includes new material, including:
Three new Knowledge Areas to address Portfolio Strategic Management, Portfolio Performance Management, and Portfolio Communication Management

A new Defining Process Group to address defining processes

The Authorizing and Controlling Process Group replaced the Monitoring and Controlling Process Group.
Portfolio management is an integral part of an organization's overall strategic plan. While project and program management continue to focus on "doing the work right," portfolio management maintains a concern with "doing the right work."