USM550 Service Problem Management 102
Author:

Service Management 101, Ian M. Clayton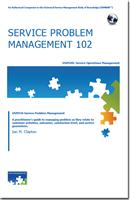 'USM550 Service Problem Management 102' is a practitioner's reference for professionals developing practices to manage problems as they relate to products and services. The guide provides a detailed specification of a problem management system spanning fifteen major activities, and forty five sub-activities. The guide also provides an overview of how problem management inter-operates with service incident, service change management, and continuous improvement programs.
As a practitioner guide this book draws upon a universal set of terms, methods, and guidance used across all industries, regardless of sector, and is inclusive of all theory and concepts regardless of their source, and describes how these can be applied to any service business.
The contents are designed to be compatible with relevant international standards, such as ISO 20000® and ISO 9000®, popular best practice frameworks such as the IT Infrastructure Library (ITIL®), COBIT®, and proven problem management practices used in key service sectors, such as healthcare, and government agencies such as NASA and the National Transportation Safety Board.
This book is also a companion and authorized extension to the Guide to the Universal Service Management Body of Knowledge (USMBOK) publication, for the USM550 Service Problem Management knowledge area.