ITIL® V3 Service Transition
Paperback
Author:

AXELOS

Publisher:

TSO (The Stationery Office)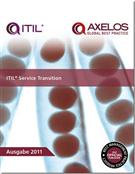 The ITIL Service Transition stage of the ITIL service management framework offers global best-practice guidance for IT professionals wishing to introduce new and changed services, ensuring that the value identified in the service strategy is maintained and controlling risks to smooth operations.
ITIL Service Transition describes best practices for managing service change, and helping departments and businesses to transition efficiently, from one state to another. The effect of change on operations, customers, users and the business are all considered in this critical stage of the ITIL lifecycle suite.
This publication represents the combined experience and knowledge of practitioners from across the world. It contains the knowledge and skills needed for any IT, procurement, or quality assurance professional looking to develop expertise in the delivery of change.
Key benefits
Provides a step-by-step approach to IT service transition, including specifications, configuration, test, release, deployment and every step in between

Allows for innovation, whilst managing the complexity resulting from change, to prevent undesired consequences

Introduces the service knowledge management system, to enable people to learn from the knowledge and experience of others

Demonstrates how to deliver more accurate cost, time and resource estimations, improved cost effectiveness and transition success
Anyone considering ITIL professional accreditation should note that this is the only source from which the ITIL exam questions are taken.
Alternative formats
ITIL Service Transition is part of the most widely recognized framework for IT service management in the world, used by thousands of organizations - small and large - from both public and private sectors.
Other publications within the ITIL lifecycle suite include: ITIL Service Strategy, ITIL Service Design, ITIL Service Operation and ITIL Continual Service Improvement.