ITIL® V3 Continual Service Improvement
Paperback
Author:

AXELOS

Publisher:

TSO (The Stationery Office)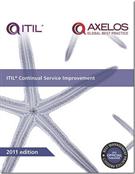 Continual service improvement should be an integral part of every stage of the ITIL service management framework. ITIL Continual Service Improvement provides best-practice guidance for introducing a cycle of service management improvements, and a structured approach for assessing and measuring services.
It is essential for IT services to keep pace with changing business needs. This publication describes best practices to identify opportunities for improvement in each stage of the ITIL lifecycle, with a focus on effectiveness across services, processes and costs.
ITIL Continual Service Improvement is relevant to any IT and business professional involved in the management of services, including managers and practitioners, IT architects, process and service owners and business relationship managers.
Key benefits
Improves service quality in a gradual and continuous way

Ensures IT services are continuously aligned to business requirements

Reviews cost effectiveness and capability

Monitors and measures performance to identify improvement opportunities and corrective actions

Optimizes organizational structures, resourcing capabilities, partners, technology, staff skills and training, and communications

Assesses the health of an organization's IT capability against current and future business needs
Anyone considering ITIL professional accreditation should note that this is the only source from which the ITIL exam questions are taken.
Alternative formats
ITIL Continual Service Improvement is part of the most widely recognized framework for IT service management in the world, used by thousands of organizations - small and large - from both public and private sectors.
Other publications within the ITIL lifecycle suite include: ITIL Service Strategy, ITIL Service Design, ITIL Service Transition and ITIL Service Operation.