Control Objectives for Information and related Technology (COBIT®)
Framework for I.T Governance and Control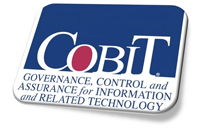 Control Objectives for Information and related Technology (COBIT) is an information technology (I.T) set of best practices and supporting toolset that allows managers to strengthen the relationship between control requirements, technical issues and business risks. COBIT enables clear policy development and good practice for I.T control throughout organisations.

COBIT emphasises regulatory compliance, helps organisations to increase the value attained from I.T, enables alignment and simplifies implementation of the COBIT framework.


Beginner's COBIT Companion provides a gentle introduction to COBIT 4.1, the IT Governance framework from ISACA; it contains a wealth of useful information for any reader new to the subject.









This IT Governance Management Guide is the result of a project that involved many experts from all over the world. It started out as a compact reference to one framework, but it grew into an original document on IT Governance. It is provided for two purposes.









IT is operationally critical and strategic to an enterprise's success. Implementing best professional management practices should be a management imperative. ITIL and COBIT are two of the most widely adopted frameworks for supporting IT governance and management improvement initiatives.