PRINCE2 Agile®
Paperback
Author:

AXELOS

Publisher:

TSO (The Stationery Office)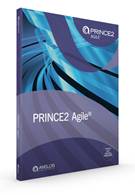 PRINCE2 Agile is the world's most complete agile project management method, combining the flexibility and responsiveness of agile with the governance of PRINCE2. Consisting of guidance, training and professional certification PRINCE2 Agile explores the interface between agile delivery techniques and project management fundamentals.
Key features:
Designed for project managers working in an agile space, or those looking to understand more about agile delivery; PRINCE2 Agile provides guidance on:
An overview of the common Agile techniques and concepts such as Scrum, Lean Start-Up, and Kanban

How to map the common agile roles into the PRINCE2 project management team structure

How to incorporate agile behaviours and techniques into PRINCE2 projects, including an agile iterative workflow.
As a blended approach, PRINCE2 Agile gives project managers the skills and knowledge to benefit from agile delivery, whilst maintaining purposeful levels of control with PRINCE2.
More information
Certification scheme: PRINCE2 Agile consists of guidance, training and certification. There are two certification levels, Foundation & Practitioner.

PRINCE2 Agile Foundation is for candidates who are new to PRINCE2 and are working in or around an agile project environment. The course covers an overview of PRINCE2, an introduction to agile, and how to apply the two together.

PRINCE2 Agile Practitioner is for candidates who would like to extend their knowledge of PRINCE2 Agile by learning how to practically apply the PRINCE2 Agile method to real-life scenarios. It is designed for those who are certified in either PRINCE2 or PRINCE2 Agile Foundation levels.

Pre-requisites

There are no pre-requisites for PRINCE2 Agile Foundation, making it one of the most accessible agile certifications on the market.

To complete PRINCE2 Agile Practitioner, you must hold one of the following: PRINCE2 Agile Foundation, PRINCE2 Foundation (or higher), Project Management Professional® (PMP), Certified Associate in Project Management® (CAPM), IMPA Levels A, B, C and D® (Certified Projects Director).
Alternative formats