Service Management 101 Partner page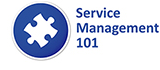 Service Management 101 provides professionals working in service businesses with a comprehensive set of education, consulting, publication and web-based subscription solutions designed to help maintain vital skills needed to differentiate themselves, and to establish and sustain customer relevant and value based service management systems.
The solutions incorporate the very latest international best practices and methods used by superior service providers to manage customer interactions, experiences and satisfaction levels, and based upon the service management framework, system and organization specifications detailed within the Universal Service Management Body of Knowledge (USMBOKô).
Service Management 101 recognizes today's service economy is an experiential one. The customer experience of interacting with products and services, or the service provider organization itself, is often a vital differentiator, and at the core of customer satisfaction. We are pioneers of 'outside-in (OI) thinking', which places the interests of the customer first, ensuring an explicit customer reason is in every decision, and the customer experience (including the service experience), is respected and managed.
We understand a service business and an organization performance managed as a service provider cannot deliver excellent service without understanding the service experience they plan to deliver, and are delivering. It follows that professionals working in a service business must maintain knowledge of the customer's needs, behaviour, and desired outcomes, and have confidence the right people are in the right jobs, doing the right things, at the right time, and that this requires specialized skills, methods, and guidance.
Our vision and philosophy is to provide affordable and pragmatic methods to help service management professionals be in a position to adapt and apply the very latest best practices and know-how to the design and operation of a service management system, irrespective of source, and agnostic of service industry sector.
We are committed to an open, inclusive and holistic approach to service management that spans the offer, provision and support of services, and places at its core the interests of the customer. Our solutions uniquely combine the concepts and methods of Outside-In Thinking, Lean Thinking, and Service Management Systems Thinking, in a continuous pursuit of professional, service, and operational excellence, universally applicable to any service industry or business.
Our solutions include:
The Guide to Universal Service Management Body of Knowledge (USMBOKô), and companion series of publications designed to act as vital references for service management professionals

The Service Management University, an online learning system providing affordable access to the latest service management related education and topical information - for more information visit: http://servicemanagement.university
For additional information on our organization, its partner network, and services we offer, please visit our servicemanagement.university.