Survival guide for senior responsible owners - programme visions and blueprints
September 2019
By Rod Sowden

'If we don't know where we are going, how will we know when we have arrived, let alone how we are going to get there?' Yendor Nedwos
Defining the vision
The vision is a 'postcard from the future' acting as a 'beacon' for the programme, setting out the direction and justification for the change. It is developed early in the creative process. If you don't believe in the vision, you will find it very difficult to be an effective and successful senior responsible owner.
Defining the blueprint
The blueprint (also referred to as the 'target operating model' and more challenging than the vision) is the detailed definition of what needs to be in place to achieve the outcomes. It contains key sets of information upon which the programme design and delivery will be based.
Creating a blueprint challenges people to think through the consequences of the vision, which may identify issues and decisions that people would rather not have to make. History tells us that without a blueprint your programme will probably fail or, as a minimum, you will not be able to prove you have succeeded - which could be worse.
There are a number of fundamental reasons why blueprints don't get written:
Inexperienced programme team and leadership, who do not understand the need for it

'Just-do-it' approach from sponsors, key stakeholders and programme leaders - 'let's get going and see where we end up'

Lack of clarity within the programme or the organization on where it is going, so the process of blueprinting asks too many difficult questions

Assumption that everyone knows where you are going.
The creation of an effective blueprint that matches the vision and the degree of change required is a challenging and complex task. So here there are a few tips on how to pull together both a decent vision statement and a blueprint statement that both have longevity.
Magnificent seven tips
Keep the vision simple: a simple and compelling vision statement is a powerful communications tool you can use to harness support and engagement with your programme. Avoid clichés and don't be afraid to use images to illustrate the world you want to create

Don't duck the blueprint: without one you have no destination to navigate to. Blueprints don't have to be long and complex, but they must be clear enough to show where the benefits, projects, business cases and tranches come from

Don't release the vision without considering the blueprint: when developing the blueprint, start with the process and focus on the customer's experience. Use experts and outsiders to provide challenge as well as experience. Don't go public with a vision until you have given ample thought to the blueprint and what the end-game is likely to be - this is a very common mistake

Give the blueprint time: take the time needed to develop the blueprint and to get buy-in from key stakeholders, especially the business continuity management executives. The blueprint is describing the organization that will be in place when the programme completes, and it will be your personal legacy

Use intermediate blueprints: depending on the duration and degree of possible uncertainty, consider using intermediate blueprints and accept that there is ambiguity and that it will evolve. Where there are gaps in the details, make sure they are managed as part of the risk process

Blueprints can be politically sensitive: this is where the detail of what you are creating will be defined, so you will be exposing your hand and you can expect opposition to be more vocal if you have not won their hearts

Develop the blueprint iteratively: you will not get the blueprint right the first time. You may have to run with a number of potential scenarios, particularly if there are external events outside of your control. It needs to reflect the evolving organization and the benefits anticipated.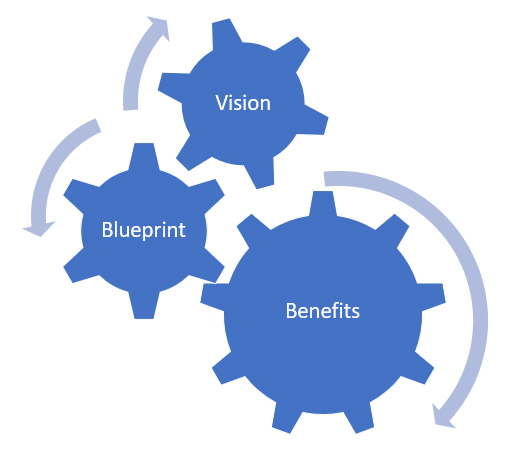 Figure 1 Vision, blueprint and benefits
---
About the author:
Rod Sowden is founder and managing director of Aspire Europe, an organization dedicated to improving organizations' programme management performance. In the last 10 years, Rod has travelled the world working on assignments and lecturing on a variety of programme management topics. He is an experienced programme management registered consultant; Rod has worked on numerous consulting and delivery assignments that have left organizations with sustainable change. The bulk of his career prior to programme management was in the BBC, where he worked prior to founding Aspire Europe.
Rod was lead author on the 2011 edition of Managing Successful Programmes (MSP®), and the Portfolio, Programme and Project Maturity Model (P3M3®). He has also authored a series of MSP survival guides, such as the MSP Survival Guide for Business Change Managers, and the MSP Survival Guide for Senior Responsible Owners, which support individuals in key programme roles. Rod has helped more than 150 different organizations improve their portfolio, programme, project, and change management performance.
International Best Practice is delighted to have worked with Rod on his latest title, A Practical Guide to Project Planning, it is a step by step guide on planning for project managers who wish to deliver success.
---
---