Cybersecurity-ethical hacking goes mainstream
July 2019
By Jennifer Arcuri

It goes without saying that we (governments, corporates, and civilians) need to wake up. As technology becomes smarter, more connected, ever pervasive and proliferating, the risks to our cybersecurity rise exponentially - it only takes one weak link in the chain for disaster to become reality. We live in a world that is increasingly driven by an online community. In this new era of cybercrime, we are all exposed, but most of us lack the appropriate protection or knowledge to combat the threat.
My objective here is to highlight the importance of ethical hackers, of which there are many thousands around the globe.
The ethical hacking skills gap
We need an active cyber-defence strategy and soldiers on the front line. The reality is that those with the power to employ skilled 'soldiers' and direct resources effectively are failing to do so. Skilled individuals are needed, to help people and organizations identify and 'patch' their cyber weaknesses to ensure a safe and secure digital presence.
Governments and branches of the military around the globe are recruiting elite cybersecurity troops. Unfortunately, they are using the same approach that has worked for the recruitment of Navy, Army and Air Force personnel - the mentality is that the 'best of the best' are corporate. The bulk of cyber talent, however, does not fit into that category.
As a result, recruitment targets are being missed. We must focus on creating a culture that recognizes and understands the hacker's mindset and provides opportunities for such talent to be directed towards something good: ethical hacking.
A mindset shift
Ethical hackers understand their place in a rapidly changing society and know that being part of the humanity-collective requires being responsible for their actions on- and off-line. They are best placed to protect us, since they understand better than anyone else what happens when everything is connected.
We can only build and execute a defensive strategy to fight cybercriminals by being offensive, and this entails bringing in those who 'do what the bad guys do' but wear white hats while doing it. Public policy needs to embrace them and security agencies, together with academic institutions, need to promote and support ethical hackers as we continue to live in a digital society.
Cybersecurity for digital natives
Those in government and industry must ensure that every civilian is aware of the threats that surround them and is educated in basic security, able to run system scans and have access to ethical hackers. We need to raise, educate, and train generations of digital natives to actively keep up with cyber security threats. The principles of ethical hacking must be taught to kids everywhere, in the same way that road safety is instilled from an early age. Universities and after-school groups should be encouraged and incentivized to organize ethical hacker clubs.
In short, public policy, security, and academic institutions need to promote, support, and enable ethical hackers.
---
About the Author
Jennifer Arcuri is the founder of Hacker House and the InnoTech Summit, a leading tech conference which brings together influential leaders from the Prime Minister's Office, the Ministry of Defence and the National Crimes Agency among others to bridge the gap between legislation and innovative technology.
Her work became most popular during her Tedx Talk Liverpool 'Why ethical hacking is important in a 21st century economy', which helped encourage policy in the UK around education and cyber skills advocacy in the classroom.
Jennifer has also been an integral part of various skills campaigns across the UK including speaking in classrooms across London surrounding the issues of cyber bullying, what to do in case of a security breach, and children's safety online.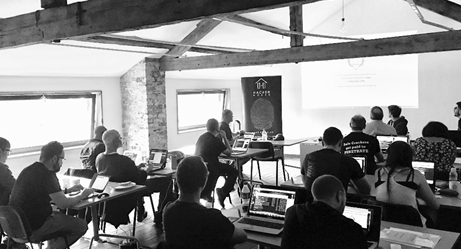 MadLab training in Manchester
visit hacker.house

visit innotechsummit.com

---
---