ITIL® 4 review: A revolution in service management
18th February 2019
By Jace Finman

A brief history
I first became a trainer when ITIL was in version 2. Back then, it was a relatively simple framework. The training consisted of two core books, Service Support and Service Delivery, and 11 topics were split between them.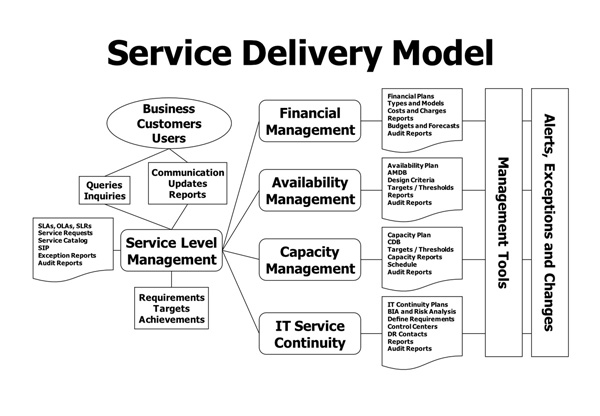 View larger image

© 2019 GoodCert. Based on AXELOS ITIL® material. Reproduced under license from AXELOS Ltd. All rights reserved
After delivering a few ITIL Foundation courses, I came to realize that this simplicity was a strength. In the mid-2000s, most IT professionals had never contemplated adopting a formal structure. The easier it was to explain ITIL, the better!
If you know technical people, they always want to take things apart. Soon, students were questioning the ITIL model and discussing ways to adapt it. This was especially encouraged in the more advanced service manager training.
By 2007, I could tell the audience for ITIL was outgrowing it. The good news was that a new suite of ITIL publications was just around the corner. It became known as version 3.
All of the original content of ITIL version 2 was preserved but it effectively tripled the number of topics and placed them in five service lifecycle stages: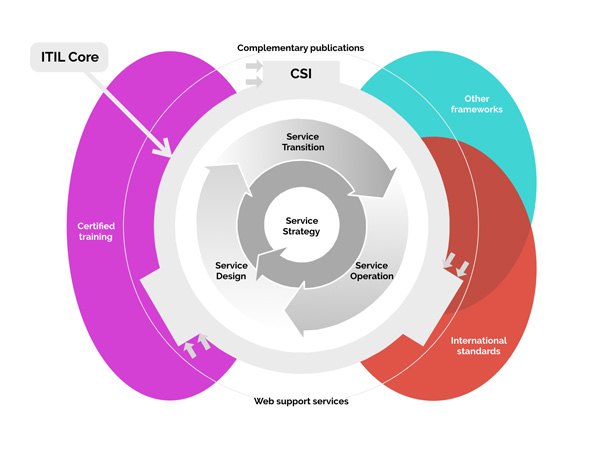 View larger image

© 2019 GoodCert. Based on AXELOS ITIL® material. Reproduced under license from AXELOS Ltd. All rights reserved.
If you were looking for greater depth and complexity, this was it.
Version 3 satisfied those who were hungry for more detail but remained approachable to newbies as well. However, ITIL was always offered with the disclaimer that, 'No one does it all.'
The biggest consequence was that adaptability seemed even further away. Specificity led to the perception of rigidity. Nitpicking ensued and trainers were constantly having to steer students back to practicality, which wasn't an easy task.
Within a few years, the 2011 edition of ITIL was published to clean up inconsistencies in the material. It was a minor evolution of the framework and didn't address the adaptability issues. This update went largely unnoticed. In fact, most trainers (and students) continued to refer to ITIL as version 3.
So here we are, nearly eight years later. ITIL was beginning to feel dated, inflexible and unaware of the disruptive forces in IT. Isn't it about time for a revolution in service management?
In my humble opinion, ITIL 4 is about to deliver just that!
A hyper-flexible structure
One of the biggest points of contention in ITIL version 2 and 3 was topic placement.
For example, change management was assigned to service support, rather than service delivery, in version 2. This gave the impression that it was solely an operational activity, executing changes in response to problems.
In version 3, it was placed within the service transition stage of the lifecycle. This gave the opposite impression: that it was solely involved in meeting customer requirements.
And so the pendulum swings!
ITIL 4 solves this by introducing a hyper-flexible structure known as the service value chain (SVC). It's an operating model consisting of six activities and three components: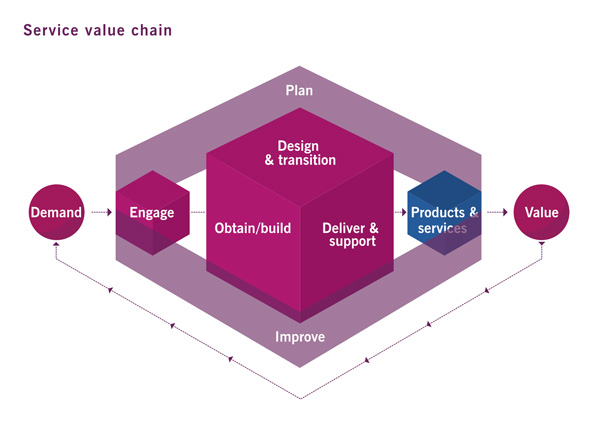 View larger image

Copyright © AXELOS Ltd 2019. Used under permission of AXELOS Ltd. All rights reserved.
Practices like change management, now called change control, are potentially relevant to all of the activities. When it's time to engage, plan, design, transition, build, support or improve, how does change control contribute?
Other practices, such as incident management, may have a more limited scope with only the engage, deliver, support and improve activities being applicable.
Organizations need to ponder these questions and decide how capable their practices should be. This sends a clear message that we're throwing out the template!
Deep integration with other frameworks
Ready for some acronyms?
The service value chain (SVC) described above is a component of the overall service value system (SVS):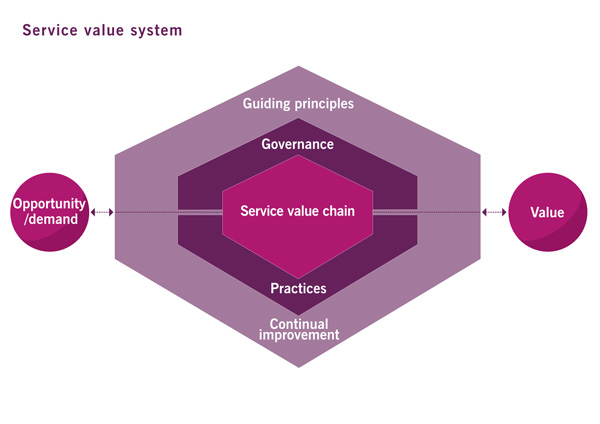 View larger image

Copyright © AXELOS Ltd 2019. Used under permission of AXELOS Ltd. All rights reserved.
Its purpose is to provide a strong, unified, value-focused direction for the organization.
This model was inspired by COBIT®, which provides a goals cascade linking stakeholder needs for governance to processes/practices.
There's another new model in ITIL 4 called the four dimensions: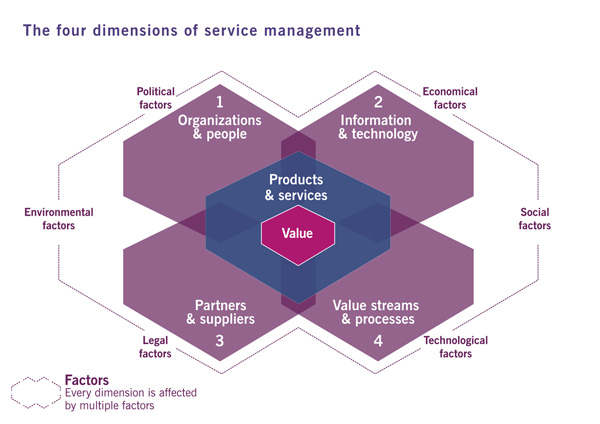 View larger image

Copyright © AXELOS Ltd 2019. Used under permission of AXELOS Ltd. All rights reserved.
From DevOps and VeriSM™, dimension 1 talks about staff competences and the need to be T-shaped:
From COBIT, dimension 2 refers to six information criteria:
Dimension three defines service integration and management (SIAM).
Lean IT is applied in dimension four, which makes use of value streams:
Deep integration with emerging practices has never been seen before in ITIL. This will undoubtedly reduce friction with other frameworks and broaden its relevance.
Less emphasis on processes (for now)
In ITIL 4, processes are now known as practices and there are 34 of them. Only 18 are directly referenced on the Foundation exam:
Special attention is paid to these seven:
Continual improvement
Change control
Incident management
Problem management
Service desk
Service level management (SLM)
Service request management
Do they look familiar?
Getting Foundation certified requires fewer contact hours and practice details have been dialed back.
The purpose, activities and definitions of each practice are covered. These help establish a basic understanding of the topic. In-depth content will follow at the higher levels of certification.
I see this as a positive development. Foundation will help teams determine how to organize in support of value. The need for practice expertise may then be unique to a specific team member, who can sign up for the appropriate advanced course.
This avoids the information overload that students often experience in their first course. It also means that Foundation is truly the beginning, rather than the end, of your ITIL journey.
In conclusion
No framework is perfect. The ITIL 4 authors recognized this and made a conscious effort to fix the weaknesses identified by the larger service management community.
That meant defining a more flexible value system, adopting the best elements of emerging practices and making the qualification scheme more targeted.
These improvements give ITIL new relevance and should provide a fresh perspective on how to revolutionize your own way of working.
---
About the Author
Jace Finman is founder and trainer at GoodCert, an innovative provider of online, self-paced courses. He is also an ITIL Expert.
Growing up as a bit of a nomad, Jace is from the United States but has lived in Colombia, Honduras, Saudi Arabia, the UAE and Austria. He heads an international business and maintains connections around the globe.
He has spent over a decade delivering accredited IT management training products including ITIL, Blockchain, DevOps, Agile, Scrum, VeriSM, Lean IT, COBIT and ISO 20000.
Jace's unique perspective on business makes him committed to surrounding himself with a diverse team while providing training that is cross-cultural and well received across continents.
---
For more information about ITIL 4
Please go to the AXELOS website: https://www.axelos.com/best-practice-solutions/itil

---
---