One of our International Best Practice Authors, Jim Bolton, has been awarded the 2018 Ron Muns Lifetime Achievement Award
19th April 2018
By International Best Practice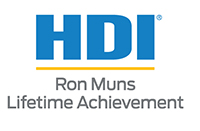 We congratulate our author, Jim Bolton, on achieving the prestigious 2018 Ron Muns Lifetime Achievement Award, by HDI.
"Jim Bolton is a respected authority, colleague, and friend to many, many service management professionals. His insights and passion are for all of us to emulate," Roy Atkinson, Senior Writer/Analyst, HDI."
In 2008, HDI created the Ron Muns Lifetime Achievement Award to honor HDI's founder. This award, presented annually during the HDI Annual Conference & Expo, recognizes the lasting contributions, leadership, enthusiasm, and tireless efforts of industry luminaries who've committed themselves to elevating the reputation of the technical support profession and improving the industry.
Award Criteria
HDI's panel of judges selects the nominees and uses the following criteria to evaluate their accomplishments in and dedication to the technical support industry:
The candidate has been active in the technical support industry for at least ten years.
The candidate has made noteworthy contributions to the industry, including (but not limited to):
Providing thought leadership on the industry's strategy and direction
Sitting on the boards of industry organizations
Speaking at industry events
Providing industry mentorship and leadership
Contributing to industry education and training and the optimization of certification programs
Contributing timely content to industry publications
Providing input on or helping develop industry research
Influencing industry best practices, standards, or frameworks
Authoring books for the industry
The candidate has demonstrated dedication to his or her own professional growth and the growth and success of the industry as a whole.
Past Recipients
2016 - Ken Wendle
2015 - Jon Custy
2014 - Jeffrey Rumburg
2013 - Greg Oxton
2012 - George Spalding
2011 - Katherine Spencer Lee
2010 - Char LaBounty
2009 - Malcolm Fry
2009 - Ron Muns
---
About the Award Winner
Jim has more than a decade of experience in designing and delivering ITSM solutions. He is the founder and president of Propoint Solutions, Inc. (www.propointsolutions.com

), an ITIL® training and ITSM process consulting organization. Jim is an expert at diagnosing and solving complex organizational and process challenges. Jim is an ITSM consultant, courseware developer, trainer, author and speaker at conferences around the world on ITSM topics. He received the IT Industry Legend award in 2014 and more recently, he has been awarded the Ron Muns Lifetime Achievement Award April 2018, by HDI.
Jim's credentials include an MBA in technology management, ITIL v2 Manager, ITIL v3 Expert, ITIL Practitioner and Competency certificates and the itSMF ISO/IEC 20000 Consultant certificate.
---
---