Business alignment in the digital enterprise
17th October 2016
By Gary Hardy

The future is all about the digital enterprise and the use of services to support core business activity. Why build, own and maintain your own solutions which are often complex and expensive technologies, when you can reuse proven services?
Business process adaptation and enterprise architecture are critical to strategic planning. An integrated approach is the way forward - this means integrated thinking and involving everyone in the change, including leadership from the top.
Business and IT are converging. Is "IT" even a relevant term any longer? Technology is pervasive. I think terms like "IT project" should disappear, there is no such thing any longer. Technologies in all their forms are now built for business as project enablers. As a CEO once said: "Let's just talk about the business outcomes not the technical solutions".
But here's the catch: "success doesn't happen by chance" and "a good practice is only as good as the people who use it". So we need have to have effective leadership and a capability able to execute the plan.
Most boards and executives simply don't know much about their technology capability. They rely on their CIO who they often don't trust.
Leaders, who want success, need to think like a sportsman reaching for gold. . As Gary Player once said "the more I practice the luckier I get".
Being a digital winner means:
Having a plan to win: set goals and targets
Communicating the vision
Providing commitment
Drive performance through good practice
Taking ownership and accountability - driving and sustaining the plan
Getting the necessary resources and funding
Setting goals and measuring targets
Monitoring performance
Prioritising the most important things to do to realise the goals
Making the right decisions when the plan needs to be changed (and it always will)
Coordinating and facilitating all the relationships as partners not adversaries
Understanding where you are now and where you want to be (continual improvement)
Applying a positive "we can do" attitude
Delivering and demonstrating beneficial outcomes a step at a time
Recently, I invited two long term friends and associates, John Thorp and Peter Harrison to present at our local ISACA conference on "Realizing Value in a Digital World, Re-Thinking Governance, Leadership and Management". John and Peter explained that we are in a time of constant, complex change. Digital transformation requires new ways of governing, leading and managing. A large part of this transformation requires a shift in attitude, behaviour and culture from both business and IT service providers.
Recognise this silly blunder????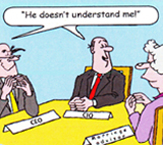 Not appointing a business owner/ sponsor to be accountable for IT enabled business changes.
No commitment from business, poor definition of requirements and limited business engagement in driving the benefits.
Reproduced with kind permission by Gaming Works.
Not surprisingly business and IT alignment has once again become the #1 issue raised by CIOs. Earlier this year I presented my top 10 IT management mistakes in a webinar and this in turn became a global survey. When I presented the preliminary results at our ISACA conference, one person stood up and said "Thank goodness for you and for this list! Later she tweeted "This tops it all!"
Will we ever stop saying "IT and the Business", and start accepting that we are all part of "The Business". That would require a change of attitude, behaviour and culture from everyone involved. But we can change, can't we?
Imagine the wasted opportunities, not to mention the wasted resources. Surely we can no longer afford to draw a line through the enterprise? Business and IT must converge. When they do, magical things can happen. I've seen it with my own eyes!
---
---