The Service Desk - As good as the rest of the IT Organization
29 July

By Barclay Rae

I am often asked to review and make suggestions for improving IT Service Desks - I've been doing this for over 20 years. As a commercial engagement, this involves some pre-sales discussion, proposal and agreement - a sales process, which in itself is often enlightening.
My first questions are always obvious big ones - 'What's the problem?', 'what do your customers think?', 'what pain are you feeling?', 'why do you want a review?', and 'where would you like to take the Service Desk?' These questions are usually anticipated by the client and tend to elicit a good amount of information and feedback about the issues and challenges faced.
'It's not working, our customers are unhappy, we can't keep staff, the morale is low, we're missing our service level agreements (SLAs)...' etc.
I then move on to the rest of the (IT) organization and start asking about how that works and how it integrates and collaborates with the Service Desk. We also might start talking about the logistics of the review process, where I want to talk to the Service Desk and customer/users (of course) but also to a cross section of IT colleagues from teams across the organization. Often this gets a more muted or even confused response, sometimes even negative or challenging my approach -
'But you'd be here to look at the Service Desk, right..?'
If we do agree on the work and I start the review often the members of other IT teams don't turn up at pre-arranged interviews (I try to pre-empt this but it still happens). Even experienced and senior individuals who have been briefed about the work can still show up with a sense of;
'Why am I here? I'm busy and this is a review about the Service Desk'.
This view can also persist even once I've undertaken the review and we have agreed on what the issues are and are starting some form of improvement project or initiative - i.e.
'This is the Service Desk project, so you don't need me....'
Joining Up the Service Desk
My point is that often it is patently obvious, from the start, and without too much investigation, that the Service Desk isn't joined up to the rest of the IT 'supply chain'. It might be trying to do this and some teams may be partially making that happen, but others (including management) just don't understand the need for integration and collaboration.
Indeed whilst there is a perception that there are issues with the output and delivery of the Service Desk, this might not just be to do with the way that team is structured and how they answer the phone, it could involve other parts of IT too.
For me, there are 2 main explanations for this - the first being an issue with a lack of respect and how people in IT view the Service Desk role. This has changed for the better over the years but still prevails in greater or lesser extent in some organizational cultures.
The second reason is simply the lack of understanding of the 'supply chain' nature of what we do in IT and how it needs to improve. In other words, the Service Desk can only do so much to resolve faults and questions that are presented to it. It also needs the fast and effective support of other teams to present a unified and effective service - as a single organization - to its customers.
Whilst you might have an excellent Service Desk in terms of its people, approach, management, tools and processes, ultimately the 'end-to-end' service provided to customers is only as good as the whole organization behind it - and hopefully working with it.
The classic scenario is that customers/users are happy with the 'quick fix', or 'first-time fix' approach if that can be delivered by the Service Desk. When issues are escalated to other teams, these can, however, go into the 'black hole' - i.e. no clear ownership, no clear expectation set for the response, no clear communication to customers. The Service Desk might try and chase these issues but can end up in a war of words or virtually negating SLAs in mid-incident - meanwhile the customer waits.
Bridging the Gaps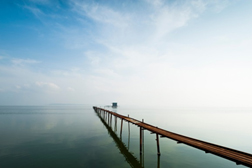 There needs to be clarity on escalation, expectations of support in line with SLAs if they are in place - effectively dedicated 2nd level support - between the Service Desk and the other teams that support the service. That's why it's useful in the Service Catalogue to define the support model for each service - who does 1st/2nd/3rd level support, what the SLAs are - so that the Service Desk can escalate effectively, teams know what is expected of them and this can minimize delay to customers.
We need to have positive, professional and productive collaboration across teams, working towards common goals, not the silo-ed individual needs and concerns of individual technical teams. This is what Service Management (ITSM and ITIL) is actually trying to do, although often this is misunderstood or misinterpreted.
ITSM / ITIL processes and tools are designed to try and bridge these gaps - and can do if there is good governance and a strong culture of collaboration and shared goals. If there is an 'us and them' culture in place, success is going to need a lot more than a good toolset and some Visio diagrams.
Some organizations and individuals take the time to get this message - others can struggle with it in a way that shows they are not really single effective units. Strong, clear management and leadership are needed to ensure that people and teams work together towards business and customer goals - not simply their own technical team interests.
Sometimes when I have these pre-sales discussions, the penny drops and the prospective client thanks me for the free consultancy and they get on with the task themselves, although of course there is still the small matter of getting advice on how to fix these problems and this can still need some external input.
It's often the case that the true nature and cause of a problem is right in front of us - under our nose. For me, it's simply the case that every Service Desk can only ever be as good as the organization that supports it.
---
About the author:
Barclay Rae is an experienced ITSM mentor and business manager. He has worked on approximately 500 ITSM projects over the last 25 years, as well as starting life on the operations side of IT, setting up and running Help/Service Desks. Barclay has created ITSM Goodness - a set of practical steps and guidelines - simple practical and proven tips and tools for successful ITSM. Visit www.itsmgoodness.com for details and free access - join the Twitter conversation at #itsmgoodness and follow Barclay at @barclayrae.